SandHD is used to predict sanding law with dynamic production conditions.
Traditional sanding prediction depends on the basic data of well logging or rock strength tests, which only reflects the initial situation of formation. This is called stationary sanding prediction. In fact, for unconsolidated sandstone reservoir, the critical sand prediction conditions vary with reservoir pressure, water cut or water saturation and formation temperature. In this software, the accesses of the above production condition affecting the critical sanding conditions were found to perform dynamic sanding prediction. The relationship of sandstone rock strength and water saturation was obtained by fitting of experiment data from other researchers. The effect of reservoir pressure decreasing on sand production was considered by principal stress formula and stress distribution model. The additional thermal stress model during thermal production is used to consider the effect of temperature on sanding.An integrated model for dynamic sanding prediction was developed to predict the sanding characteristics of a typical heavy oil reservoir with thermal production in Bohai bay.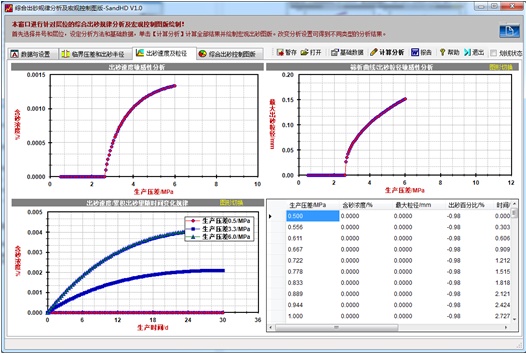 SandHD include moudle as following:
  1. Data manager system
  2. Rock properties analysis for heavy oil reservior
  3. Formation stress distribution analysis
  4. Stress around wellbore analysis for wells with thermal production
  5. Emperial sanding prediction
  6. Temperature and pressure distribution prediction
  7. Critical sanding pressure drawdown prediction
  8. Sanding rate and size analysis
  9. Macro sanding and control chart analyisi
Advantage and Characteristics
Applicabe to oil well, gas well, vertical well and horizontal well.
Covering all kind of sand control method concerning mechanical, chemical, gravel-packing and frac-pack, etc.
Convenient operation style and interface
Combined with Ms Office to export rusult data table and graph
With plenty of personalised function to customize options and settings
Flexible using mode
Good data check and fault-tolerant ability
Convenient result feedback and correction sysytem
Local and remote server database for selection any time
Provide custormized secondary development of software
Perticular technology support and update web site
Systematic technical documents and help text